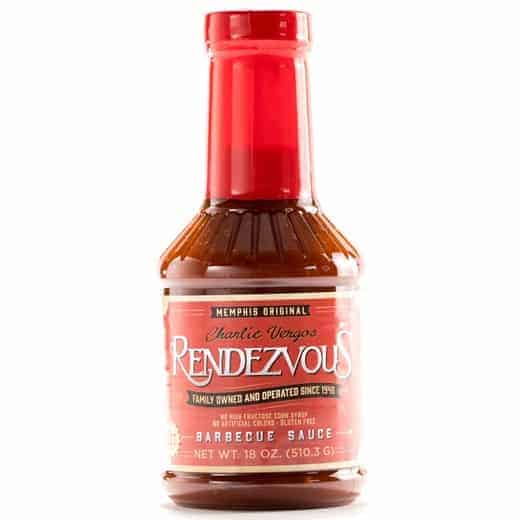 Rendezvous Hot Barbecue Sauce is a Memphis-Style barbecue sauce.  This distinctively Memphis sauce is a tomato, mustard, vinegar based sauce that is not too sweet, but has a good kick.  It is a perfect complement to any smoked or grilled meat or veggies. This sauce contains no high fructose corn syrup or artificial dyes and is gluten free and vegetarian. 
18 oz Bottle

Minimum order of 4 bottles

Price includes ground/smart post shipping
How do we package and ship?
We take pride in packaging and delivering your order.
Because we refuse to ship in styrofoam, we ship all of our perishable items in custom designed cardboard boxes. These inner and outer boxes insulate and protect your food in transit.
All perishable items ship Fedex Priority Overnight. Our Ribs and Shoulder come to you fully-cooked and frozen direct from our Downtown Memphis U.S.D.A Kitchen. We pack each box with dry ice & ice packs. Be careful not to touch any dry ice when unpacking.
Our job is not complete until your package arrives at your doorstep. We track every order throughout the day. We will contact you if there is any shipping issue.
When will I get it?
Rib and Shoulder orders placed Monday through Friday by 3pm CT will be delivered the next day. Orders placed after 3pm on Friday will be delivered on Tuesday. You can select a specific delivery date during checkout.
Non-perishable orders ship via FedEx Ground and Smart Post. Guaranteed arrival within 2-7 business days.
Important Notes
FedEx will leave the package on the recipient's doorstep. If you are sending this package as a gift, please confirm the recipient will be in town. You should alert the recipient to expect a perishable package. We cannot be responsible for packages that are not retrieved in time and spoil.
To guarantee timely delivery, we must have a proper and complete address. Include any apartment number, suite number, floor number, or company name. Just in case we need to reach out, provide us a working phone number for the recipient.
Exclusions & Surcharge
We DO NOT ship to P.O. Boxes, A.P.O, F.P.O., or outside of the United States. Shipments to Hawaii & Alaska are subject to a $25.00 surcharge. Saturday delivery is also an extra $25.
Have A Question?
We Have Answers
Restaurant Hours
Tues to Thurs: 4:30 p.m. to 10:30 p.m.
Fri : 11 a.m. to 11 p.m.
Sat : 11:30 a.m. to 11 p.m.
Address
52 S. Second Street
Memphis, TN 38103